EYFS RATED OUTSTANDING BY OFSTED NOVEMBER 2022
At Sayes Court, we believe that every child's journey into education should be a joyful and enriching experience. Our EYFS classes are vibrant and nurturing environments where young minds blossom, curiosity thrives, and a love for learning is cultivated from the very beginning.
Our EYFS curriculum is designed to spark the imagination and curiosity of our young learners. We follow an engaging and enriching curriculum that combines the best of early childhood education practices with the latest educational research. Our dedicated and highly skilled staff are experts at creating dynamic and meaningful learning experiences that cater to each child's unique needs and interests.
We firmly believe that children learn best when they are actively engaged in hands-on, play-based activities. Our EYFS classes are filled with a wonderful range of resources to encourage exploration and creativity. Through play, children develop essential skills such as problem-solving, communication, and social interaction.
Our Nursery and Reception classes boast large, well-equipped outdoor areas that are an integral part of the children's experience. Regardless of the weather, our children have the opportunity to connect with nature, run, jump, and explore. Outdoor play not only supports physical development but also enhances cognitive and emotional growth.
Every child is unique, and we celebrate these differences by offering a personalised approach to learning. We work closely with parents and caregivers to understand each child's strengths, interests, and areas for growth. This partnership ensures that every child's journey through EYFS is tailored to their individual needs, setting a strong foundation for future success.
Sayes Court Nursery
On joining our Nursery your child will be assigned a Key Worker who will provide a supportive relationship for your child whilst they are away from home. Your child will take part in individual or small group focussed sessions with their Key Worker. The Key Worker will work closely with the Nursery Teacher to gather evidence about your child's learning and make sure that they are flourishing in all areas including socially, academically, physically and spiritually.
We pride ourselves on giving your child the best early year's education they can receive.
A wonderful early year's environment in which your 2 to 5-year-old can grow and flourish
Amazing staff who are friendly, energetic, caring and incredibly passionate about the EYFS
30 hours per week childcare (30-hour funding entitlement for eligible 3 and 4 year olds)
FEET funding for eligible 2 year olds
Open Monday to Friday during term time
Two-and-a-half-day attendance pattern (Monday, Tuesday, Wednesday morning or Wednesday afternoon, Thursday, Friday)
Freshly cooked lunches on site
Learning is shared with parents via Tapestry which is an online journal. To find out more about Tapestry and how you can use this as a parent, click on the link below:
Please contact the office on 01932-845093 if you would like any additional information, an application form or to arrange a tour of the Nursery and School. We look forward to welcoming you and your child!
Please note that children attending the Nursery at Sayes Court will not automatically qualify for a place in our Reception Class in the year that they turn 5. There is a separate admissions process to join Reception. Please visit our Admissions section of the website for further information.
Tax-Free Childcare Voucher Scheme:
The school is registered to accept the Tax-Free Childcare Voucher Scheme for the Nursery, Breakfast club and the school's after school clubs.
If you wish to use this Government Scheme you will need to first register with a provider and the provider will contact the school direct. To find out more about the school please visit the Government site;
Get Tax-Free Childcare: step by step - GOV.UK (www.gov.uk)
Please can you advise the school of the activity you wish the payment to be allocated against when you have instructed your provider to make a payment.
We regret this scheme can not be used for school trips.
Nursery admission & parent contract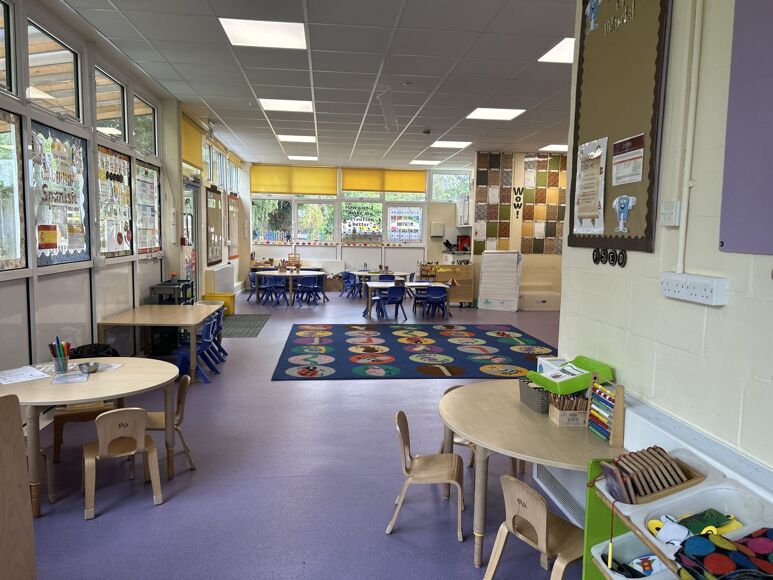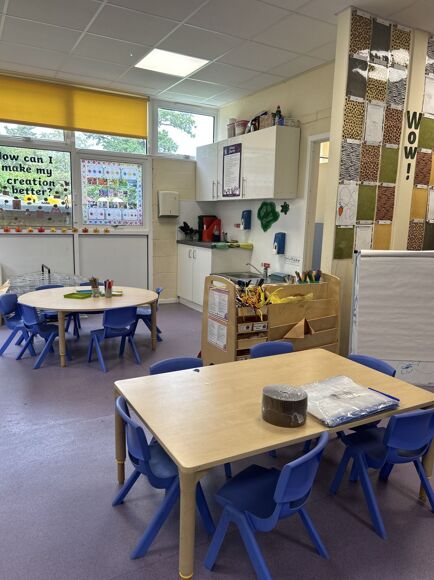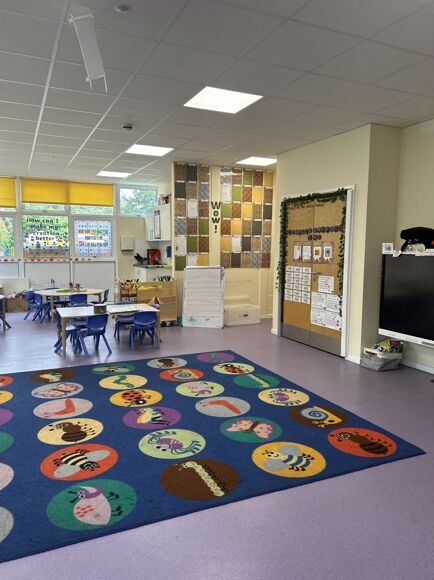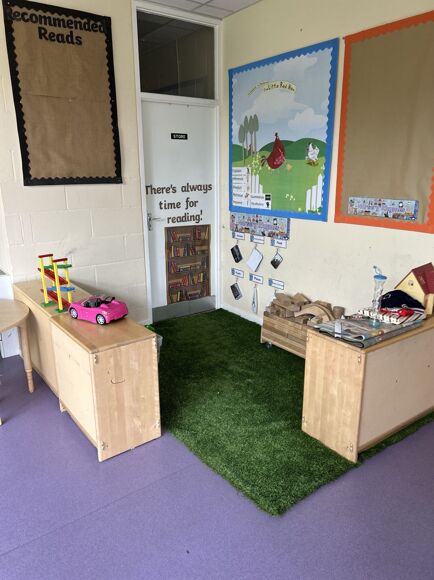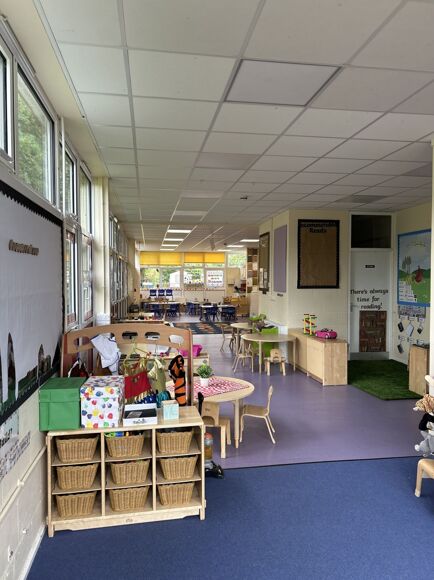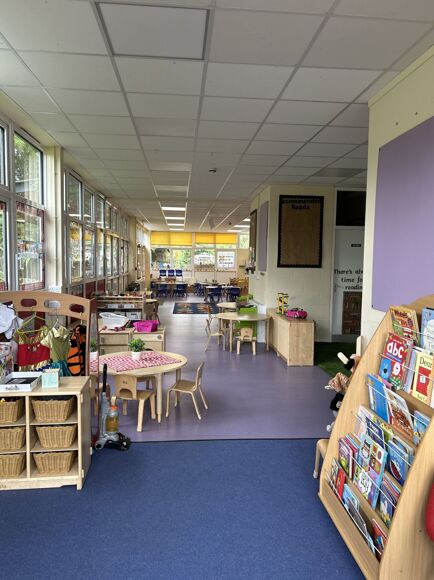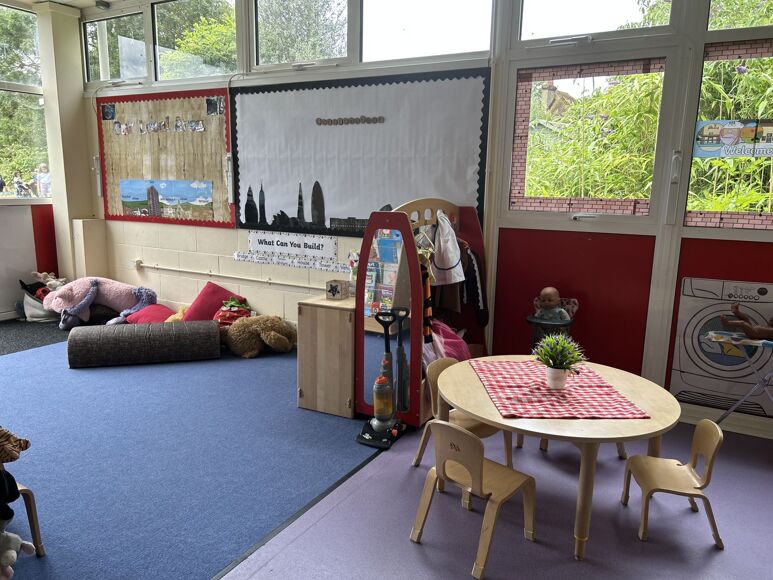 Sayes Court School Reception Class
At the beginning of the Reception year, the teacher will administer the Baseline Assessment with each individual child. The test is taken on an iPad: the teacher reads the questions and the pupil answer them independently.
At the end of EYFS, the expectation nationally is that children will achieve a Good Level of Development (GLD). In order to achieve the GLD, children must reach the Early Learning Goals (ELG) in the Prime and Specific areas of learning.
Prime Areas:
Personal, Social and Emotional Development
Physical Development
Communication and Language Development
Specific Areas:
Literacy Development
Mathematics Development
Understanding the World
Expressive Arts and Design
The learning milestones of the various areas can be found in the Development Matters document. Teacher and practitioners use this document to plan a child's journey through learning and to guide their assessment of each child. This document can be accessed by clicking on the link below:
Early Years Curriclum Development Matters
Depending on whether or not they meet or exceed the ELGs in the various areas of learning, the following descriptors will be used to report outcomes for each child:
Emerging (1) - yet to be secure in the end of year expectations.
Expected (2) - solidly secure in the end of year expectations.
Data for EYFS is tracked on Arbor and learning is shared with parents via Tapestry which is an online journal. To find out more about Tapestry and how you can use this as a parent, click on the link below:
Development Matters
We are committed to providing the best possible foundation for your child's ongoing learning journey. To achieve this, we use a comprehensive framework known as "Development Matters." This framework is designed to help us identify the key developmental milestones that children should reach at different ages. It serves as our roadmap for tracking your child's progress and ensuring that they are on the right track in their early years of education.
Development Matters is an invaluable tool that guides our dedicated staff in tailoring our teaching methods and activities to meet the unique needs of each child. By closely monitoring your child's achievements and areas for growth according to their age and stage of development, we ensure that they are not only meeting important milestones but also thriving and building a strong foundation for their future education.
More information about Development Matters can be found here:
EYFS Areas of Learning and GLD
The EYFS curriculum encompasses seven key Areas of Learning, each designed to provide a well-rounded educational experience. These areas include Communication and Language, Physical Development, Personal, Social, and Emotional Development, Literacy, Mathematics, Understanding the World, and Expressive Arts and Design.
Our goal is to ensure that every child achieves a "Good Level of Development" (or GLD) across these areas. This means that your child will not only reach age-appropriate milestones but will also flourish in their social, emotional, and cognitive development.
Intent, Implementation and Impact
Intent
We aim to provide a curriculum that meets all aspects of the Statutory EYFS Framework enabling children to;
· Be kind.
· Respect and care for the world around them.
· Know and talk about the world beyond Sayes Court.
· Be confident and competent communicators.
· Work hard.
· Experience a language rich environment.
· Be independent learners.
· Take care of themselves and others.
· Meet the expectations as outlined in the EYFS framework.
· Develop the expected skills for reading, writing and number.
· Learn to read and write through high quality phonics teaching and learning.
· Be prepared for learning beyond the Early Learning Goals and into Key Stage 1.
Implementation
In order to implement the curriculum effectively, we will:
· Work closely with families to gain an understanding of children's starting points and previous experiences. We use this knowledge to extend learning throughout their time in early years.
· Provide both child and adult led outdoor opportunities daily to experience the world around them.
· Provide visits, visitors and experiences where possible in addition to the enhancement of provision to reflect the wider world.
· Have a daily group story time and repeated reading of key texts.
· Weekly planned circle time sessions with a personal, social and emotional focus using our jigsaw scheme.
· Regular discussion on a healthy body and mind through class discussions, practical PE and Yoga lessons and during mealtimes.
· Provide well-planned activities that promote learning in all areas of the EYFS to help children achieve the ELG and beyond.
· Provide progressive experiences and teaching sequences in order to develop reading, writing and number skills as well as covering all the areas of the curriculum.
Impact
Having provided all children with relevant experiences, children will
· at least meet the expectations as outlined in the EYFS framework
· Be ready for the next stage in their learning. (Key stage one)
· Be independent and inquisitive learners.
· Be able to talk about and communicate their learning experiences.
Schemes:
Jigsaw (PSED)
Get Set 4 PE
Bug Club
Power Maths
Developing Experts (Reception)
Kapow (Reception)
Discovery RE
Tapestry
We recognise that parents are a child's first teacher and respect our combined role in nurturing your child.  We therefore encourage parental engagement and believe that warm, caring and trusting relationships between staff, children and parents are pivotal to our success. We value your contributions and endeavour to fully involve you in the life of our school. 
Part of this is the use of Tapestry, an online learning journal. Staff record the children's learning onto Tapestry by taking photos and observations of their learning. Parents are able to access their child's learning journey at home, as well as uploading their own learning to share with the class teacher. This ensures that parents can stay up-to-date with their child's learning and progress.
More information about Tapestry can be found here: Parents & Carers | Tapestry